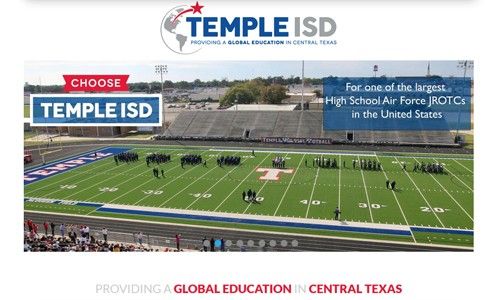 KMK Media Group, a Rockford-based marketing communications firm, was hired by the Temple Independent School District in Temple, Texas, to provide ongoing marketing consulting and support. The urban public school district is located in central Texas in a community of 450,000 people and serves approximately 8,600 students.
"The Temple district reached out to us based on their online research of marketing firms across the nation who had done substantial education-related marketing work," said KMK's CEO Pam Maher. "We then submitted a response to their RFP, competed against several other firms from across the country and were chosen by school district administration to work with Temple going forward."
Maher said she's impressed by the multiple communication channels the district already uses to communicate with its students, parents and various stakeholders and looks forward to helping the district expand its marketing efforts and promote its unique offerings such as a dual-language academy, innovative flipped-learning model, career & technical education center, animal science program, impressive SAT and ACT averages and its national merit scholars.