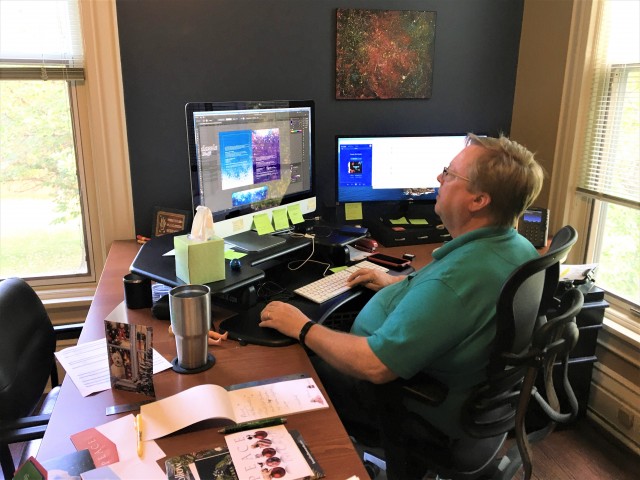 It was October 26, 2020. I began my new position with KMK Media Group as their Graphic Designer. I felt blessed. After losing my position with a game and toy company I had been with for 20 years and a long search due to COVID, I had landed.
I was given the option to work at home…remotely like so many businesses were doing. I was given a nice office with windows (no 8' x 8' cubicle in the middle of a building) so why would I want to work at home? We kept our doors partly closed and wore our masks when meeting with each other. The most difficult part of my transition was my manager being gone for my first 2 weeks due to COVID. Systems and routines were explained, tasks via email. I prevailed or so I believe I did.
It wasn't just a learning curve for me. Everyone needed to get to know me. How easy am I to talk to and how well do I take constructive criticism? My manager would often start out with, "Don't take this the wrong way…" I told her, "I'm not perfect and I expect corrections and input. Without it how can we grow as an employee and a person?" Now, a year later, the collaboration and feedback flows freely toward successful solutions for our clients.
One of my first job duties was to create the website design for a large, regional government organization. During my job interview, I'd been asked for ideas. After being hired, one of those ideas was presented and selected by the client for implementation. The new site launched earlier this year, much to my excitement and the happiness of our client.
I also worked on projects for a school, menus for a restaurant, charitable foundation website, logo designs and billboards, to name a few. There was never one set thing to do and always a variety. My only downfall was occasionally being too eager and starting a project before I had the final go-ahead. My boss thinks there could be far worse weaknesses.
Since I started at KMK one year ago, I have worked on such a variety of projects I often think about how routine my past 20 years had been, although I didn't realize it at the time. Now, there is always something different and interesting to do at KMK, and I feel my loss of past employment and struggles for work led me to a place I would not have thought existed.