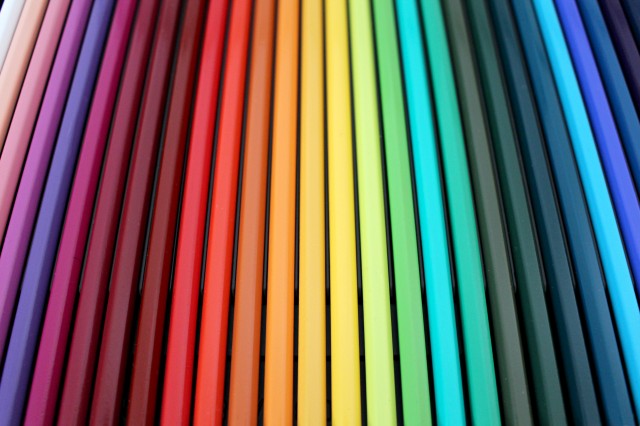 "What difference does it make what color I use? I'm just going to use what I think looks good," said many a graphic design intern I have mentored over the years.
There is a logical reason for every color choice, but first, start with black and white.
Begin your design process in simple black and white (and greys), because color plays a very important role in how we view everything we look at. In the design world, whether it is a brochure, a sign, a game box or an ever-important logo, color affects perception and preference.
I once created several variations of a logo using different colors. Upon presenting in front of a committee for feedback, I was overwhelmed with a variety of opinions. Adding color to them distracted the viewers from the actual look of the logo, and many were analyzing them with color in mind. Upon recreating them in black and white, a mutual agreement was easier to be reached based on the design alone. If you start your design process with color first before basic design, you limit creativity based on color first, NOT the design.
The next important rule of design with color? Consider your target audience. In my many years of designing packaging, products, promotional material and logos for a game and toy company, I discovered the need to start with the age demographic. It will jumpstart the design process and incorporating color.
If my target audience was ages 4 to 8, primary colors such as red, yellow and blue are often a good starting point. These colors invoke excitement, joy and playfulness at that development stage.
As we mature in age, our color perceptions change. Teens begin to favor darker "cool-looking" colors such as navy, dark green, violets, grays and burgundies. As we get into our early 30's through mid 50's, we tend to favor more muted or subdued versions of blues and greens with a little spiced-up contrast from the addition of lime greens. In our senior years, we begin to lean more towards beiges, browns, dark browns and deep, warm colors.
In addition to age considerations, colors can also invoke certain emotions. The majority of successful food franchises use similar brand colors to make you hungry. Those colors would be red and yellow. McDonald's, Subway, Burger King and Arby's fit that palette. Light blue may be used for products and services meant to calm you and entertainment products often flash with bright greens and blues.
So, before you use color, start your creative juices flowing with simple black and white. This will get you quicker and more accurate feedback on your design. Next step: incorporate your demographic color of choice and enhance your design. Happy creating!